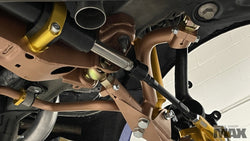 Scarles
PSM IS300 Front Eccentric Lock Out Plates
SKU: SCR PSM SXE10ELOP
Parts Shop Max IS300 Front Eccentric Lock Out Plates
CNC machined steel M14 eccentric bolt delete.
Zinc Plated. Slim hardware prevents clearance issues between the LCA bolt and the inner tie rods.
Allows Inner tie rod joint to pass by when steering with good clearance, even when using our rack forward cross member center section.
**The stock oval holes are often distorted and may require some filing for these plates to snap into the hole properly.