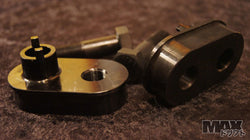 Scarles
PSM Rack to inner tie rod Forward offset spacer S13 Mfg. Date 7/1988 - 7/1990
SKU: SCR PSM RSPCRS13
Parts Shop Max Rack to inner tie rod Forward offset spacer S13 Mfg. Date 7/1988 - 7/1990
Scarles is the NZ Home of Parts Shop Max!
This CNC steel offset spacer adjusts the pivot point of the inner tie rod forward 36mm and features a black zinc coating and a lip around the perimeter if you want to zip tie on a rubber boot.
It is for cars with extreme amounts of caster setting that causes severe over centering making the steering wheel hard to turn as the tie rod loses leverage.
This offset spacing does cause some stress on the steering rack itself so for all but the most extreme caster setting the eccentric steering rack busing is the preferred method of reducing over centering on s chassis with angle modified steering knuckles.
Sold by the pair.
*Not to be combined with our (4-5mm forward) eccentric rack bushing unless you grind the FLCA mounting nut/bolt in half.
**Check your rack and our diagram in the gallery to make sure you know you are ordering the right parts!