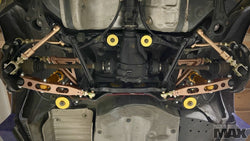 Scarles
PSM XE10 IS300 / JZS16X GS Rear Toe Rods
SKU: SCR PSM SXE10TOE
Parts Shop Max XE10 IS300 / JZS16X GS Rear Toe Rods
Pair of CNC 6061 billet aluminum toe arms with copper anodizing
'úÖ CrMo Taper
'úÖ Low torque PTFE lined maintenance-free bearings
'úÖ Clamping adjustment
*** These toe rods are slightly longer than usual to reduce toe gain.
We recommend using our eccentric lockouts for best fitment.
If you are using stock eccentric bolts, you must spin them to the maximum inboard setting for these toe rods to achieve proper toe alignment.
Fits 98-05 Lexus IS300 and Toyota Altezza.
97-04 Lexus GS and Aristo JZS16X.