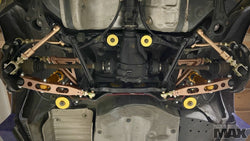 Scarles
PSM XE10 IS300 / XE20 IS250 / JZS16X GS Rear Traction Arms
SKU: SCR PSM SXE10TRAC
PSM XE10 IS300 / XE20 IS250 / JZS16X GS Rear Traction Arms
Pair of CNC 1 Piece 6061 Aluminum structure with Copper Anodizing.
Low Torque, PTFE lined, Maintenance free Spherical Bearing subframe connection, uses OEM hardware.
Forged Clamping Adjuster in Gold Zinc.
Laser Cut knuckle joint adjustable fork end, reinforced, Hardware is provided for the knuckle connection.
Adjusts the position of wheels forward and backwards in the wheel well.
Adjusts toe gain through suspension stroke.
Fits 98-05 Lexus IS300 and Toyota Altezza SXE10.
Fits 05-2012 XE20 IS250.
Fits JZS16X GS/Aristo.