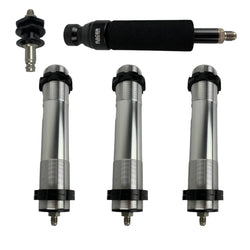 scarles
Racing Air Jacks Set with Lance (3 Post)
SKU: SCR ACC0044K
Introducing the Three Post Air Jacks kit, the perfect solution for race and drift car enthusiasts.
This kit includes three high-quality air jacks, a connector valve to bolt onto your vehicle, and an air jack lance to connect to the connector valve. The air jacks are made of durable aluminium material and weigh only 1.3kg each. The jack height is 320mm with a 230mm extension shaft, making it suitable for any model.
With this kit, you can decrease pit time and change your tires quickly and easily. The air jacks can lift up to 500kg each and require 327psi and 398psi to operate (pressure needs to be on 23~28kg/cm²). Simply connect the air jacks to a compressor and watch your car raise up instantly.
Custom mounting is required for installation. Instructions can be provided to make the installation process as seamless as possible.
Upgrade your pit stop game with the Air Jacks kit and make tyre changes a breeze. Order yours today!


Air Jacks x3
Connector Valve to bolt onto the vehicle x1
Air Jack Lance to connect onto the Connector Valve x1
Requires Custom Mounting
Each Air Jack Lifts 500kg Max
Requires 327psi and 398 psi (the pressure needs to be on 23~28kg/cm ²)
Decrease Pit Time
Made of high-quality aluminium
Weight is 1.3kg only
Jack height is 320mm, the shaft coming out of the jack is 230mm extension
Suitable for any model
Instructions can be provided.