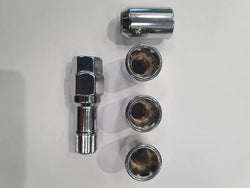 scarles
Grayston Lock Nuts 12x1.25mm x4
SKU: RCP GRANUTTLN15
Grayston Lock Nuts 12x1.25mm x4
Our Spline nuts are super slim to fit in the tightest of spots with many mags that have small diameter holes in them where conventional wheel nuts do not fit in the holes. Even if you have standard wheels and you just need some new quality wheels nuts these will serve the purpose on the standard or aftermarket wheels. You will require a 19mm socket head to fit the locking key into when tightening and loosing the lock nuts,
* Suits vehicles like Toyota, Mitsubishi, Mazda, Honda
* Made from high-quality steel
* Thread pitch 12x1.25mm
* Nut dimensions: 32mm tall, 20mm diameter
* Key dimensions: 59mm tall, 19mm diameter, 19mm head
*
Included:
* x1 Lock nut key
* x4 12x1.25mm Lock nuts
Scarles'Ñ¢ offers a range of multi-fit wheel spacers ranging from 3 , 5 and 10mm when you require that extra spacing for your wheels.