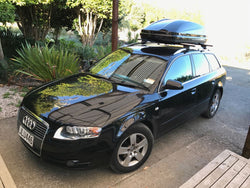 scarles
Roof Box 450L
SKU: SCR ROF0012
Our roof boxes are lightweight and has a very aerodynamic design that will help reduce wind noise and increase gas mileage. The u-bolts allows you to easily attach the box to your crossbars without having to use any tools. The Box features a built in secure lock, one on either side of the box. Perfect for snow trips or summer trips, holidays when you have limited space or a big family to carry along for the journey!
* 450 Litre box
* High Quality Plastic/Alloy
* Dimensions: 173.5X83X38cm
* Generous loading space
* It is quite easy to install
* Fully lockable
* Comes in Black
Note: These DO fit Whisper bars.