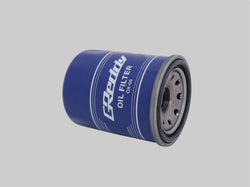 scarles
GReddy Oil Filter OX-05
SKU: SCR GRE0012
Whether you drive a performance vehicle or just know the importance of keeping your daily running clean, making sure you use a premium oil /oil filter combo is page one in the JDM handbook. 
Scarles is now stocking genuine GReddy Oil Filters that are ideal for stock, tuned street and race engines alike. When using genuine GReedy products you can trust that your engine will be running smooth and clean when you're pushing it to the limits. Don't jeopardise your motors safety by using cheap knock off products.
GReddy Oil Filter OX-05
Type: Honda ZC - B20 / Mitsubishi 4G63 - 6A12 / Mazda K8 - FS
Size: M20xP1.5, Dia. 65mm, H75mm
Scarles has a unique range of Japanese aftermarket and JDM products being introduced, ask us for more details if there is something specific you are after.