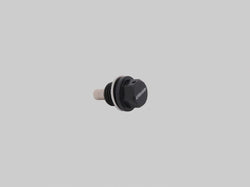 scarles
GReddy Neodymium Magnetic Oil Drain Plug MD-02 M14 x P1.5
SKU: SCR GRE0014
Believe it or not, right now metallic nasties are floating in suspension throughout your engine oil scratching up your internals. You can prevent this damage, improve reliability and reduce maintenance costs using a GReddy Magnetic Sump Plug.
The GReedy Magnetic Oil Drain Plug is made from 5000 gauss neodymium magnets, the most powerful magnetic on the market. Good luck trying to slip by this sucker if you're a piece of abrasive material. When it comes time for an oil change simply clean off the what's collect on the end of the Magnetic Sump Plug and reinstall.
Vehicle make: Fits most Honda, Mitsubishi, Mazda, Suzuki
Type: MD-02
Size: M14xP1.5
Magnetic tip / 11mm Bolt head / M14 washer:14x20mm, 1.5mm thick

Scarles is proud to supply genuine GReddy products.
Scarles has a unique range of Japanese aftermarket and JDM products being introduced, ask us for more details if there is something specific you are after.