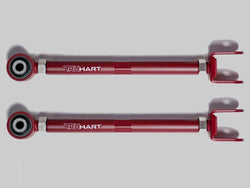 scarles
Truhart Nissan 350z Rear Lower Control Arms
SKU:
Truhart'Ñ¢ Nissan 350z Rear Lower Control Arms - New Zealand's only Road legal and certifiable arms.
Truhart is the only road legal suspension arms on the market. No longer do you need to struggle with getting WOF's or Certs with the Chinese made arms or non compilable branded arms. These rear arms replace your standard factory arms and these are fully adjustable. Adjusting the traction will bring your rear end of your vehicle much more stability whilst you drive it and being able to fine tune the traction will make your vehicle's suspension perfect for any type of application you have planned for your vehicle.
* Certifiable in New Zealand & Road Legal (documents provided if needed)
* High Quality Rubber Eye Mounts
* Fully Adjustable Lower Control arms
* Sold Per Pair

* For one Piece Suspension 
* Fits: Nissan 350z , Nissan Fairlady , Nissan Z33 , Infiniti G35 , VQ35e & VQ35det
Included:
* x1 Pair of Rear Lower Control Arms
In addition to these Truhart'Ñ¢ adjustable suspension arms we have a huge range of aftermarket D2'Ñ¢ Adjustable Coilovers for your vehicle starting from $1299.