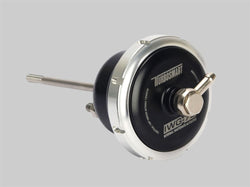 scarles
Turbosmart IWG75 Universal 150mm rod 10 PSI Black
SKU: SCR TST0359
Scarles is proud to present to you as an official Turbosmart dealer and here we have our Internal Wastegate Actuator (IWG) with Universal 150mm rod provides better turbo response and greater sensitivity when managing boost pressures. Designed as a direct bolt-on replacement for the factory part, the Internal Wastegate Actuator with Universal 150mm rod is easy to install and requires no special tools or fabrication. It can't get any easier!
*Silicone diaphragm with Nomex reinforcement to withstand high temperatures.
* High grade, billet aluminium construction
* Stainless steel rods and connecting clevis for corrosion resistance.
* Locking Collar design cap allows for quick spring changes.
* Fits: Turbosmart Universal Internal Wastegate Actuator is suitable for most factory or aftermarket turbos with an internal wastegate. It's ideal for
custom applications requiring only small modifications to the bracket or the clevis.
Supplied with: BFitting Hardware, Brown/Blue 10psi Spring (installed)
NOTE: The clevis must be purchased separately