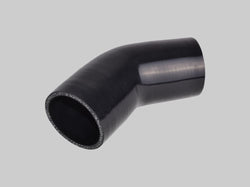 scarles
Silicone Hose 3.5" 45 degree black
SKU: SCR SIL0099
Silicone Hose for Intercooler Piping - Stealth Edition

When you have a turbo vehicle most of the time they have an intercooler or direct piping going from the intake to the turbo. Our Flexi-Grip hose is used to replace factory black rubber hoses, split silicone hoses or used when making up an intercooler kits for your vehicle. Flexi-Grip silicone hose is made from the finest silicon, so much so you can literally feel the quality of it. It is a direct replacement piece to squeeze over the intercooler piping on you vehicle.

Scarles Stealth edition hose in deep black finish

* Made from quality silicone
* 3 inches in straight length each end of the angle
* 5 Layer silicone
*

Included:
* x1 piece of silicon hose

We have a range of high quality stainless steel Tbolt clamps available ranging from 1.5" up to 4" to help keep your Flexi-Grip hoses in place.