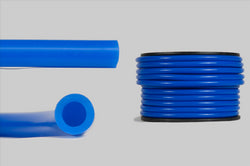 scarles
Silicone Vacuum Hose Blue 6mm
SKU: SCR VAC0007
Silicone Vaccum Hose Blue 6mm inside diameter.

When you need to replace or fancy up your engine bay's hoses you need quality hose. Flexi-Grip™ Vacuum hose is made from the finest silicon, so much so you can literally feel the quality of it. You can use vacuum hose for a number of different applications, from radiator overflow line, boost line, vacuum line, 

* Made from quality silicone
* 6mm inside diameter
* 3mm wall thickness
* Sold per Meter
*

Included:
* x1 Meter of Vacuum hose

We have a range of high quality stainless steel Tbolt clamps available ranging from 1.5" up to 4" to help keep your Flexi-Grip'Ñ¢ hoses in place.