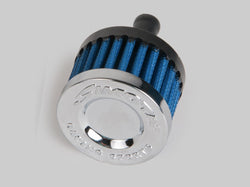 scarles
Simota Oil Breather Filter 20mm
SKU: SCR SIM0008
Simota air breather filter - 20mm external diameter

Oil Breather filters look like tiny pod filters and are suitable for oil catch cans and coming from the engine breathing system on top of the motor. You can recognise these pipes as they at pieces sticking out the side or top of the motor looping back around into the motor or into your intake system. Simply measure the outside diameter of the pipe and then choose the correct breather size you need!

• Advanced polyurethane filter construction for extra lightweight and durability.
• Made from a very high quality & unique urethane breathing material.
• Strong galvanised steel mesh coated with bright Epoxy.
• Temperature range from -30C to 150C
• Dimensions
- 50mm in height
- 45mm in diameter
• Cleanable.
• 12 Month Warranty

Includes:
• x1 Breather Filter

Scarles'Ñ¢ has a massive range of air intake products ranging from pod filter adapters to pod filters to aluminium intake pipes. We have you covered when it comes to your engine.