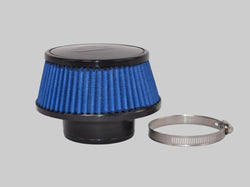 scarles
Simota Pod Filter 3" Urethane Short
SKU:
Simota Air Filters Urethane 3" Short

Every vehicle is fitted with an air filter, but not every vehicle has a pod filter. Pod filter's offer better air suction into your vehicles intake. More cold air coming into your vehicle will help the performance of your engine, meaning more power! Easy to install straight onto your intake pipe or a pod filter adapter (if needed).

• Urethane pod filters are the highest quality breather materials on the market and offer you the most flow possible for your vehicle.
• Universal to fit any vehicles intake pipe or pod filter adapter thats 3"
• Strong galvanised steel mesh coated with bright Epoxy.
• Temperature range from -30C to 150C
• 77mm (3") inlet diameter
• Dimensions
- Height: 100mm
• 12 Month Warranty

Includes:
• x1 Pod filter
• x1 3" Hose Clamp

Scarles'Ñ¢ has a massive range of air intake products ranging from pod filter adapters to pod filters to aluminium intake pipes. We have you covered when it comes to your engine.