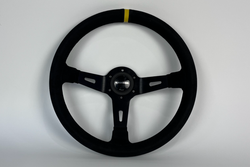 Scarles
Sport Line Wheel 'Racing 3' 20189/S
SKU: RCP SPOWHE20189/S
The Sport Line Racing 3 steering wheel features a 350mm diameter and 65mm dish.
This is a top-quality seamless (no seam stitches) steering wheel, handmade in Italy using the very best suede. The yellow leather position marker provides a quick reference for the steering position.
Made in Italy
Specifications:
'úÖ Diameter: 330mm
'úÖ Dish: 65mm
'úÖ Coating Material: Suede
'úÖ Coating Colour: Black
'úÖ Spoke Colour: Black
'úÖ Sport Line horn button included
Compatible with hubs that support a 6-bolt pattern with 70mm PCD
Do you want to install this steering wheel on your car? To do this, you will need a hub/boss kit. Check out our boss kits.