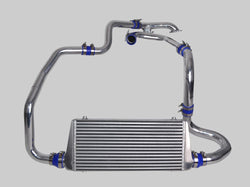 scarles
Subaru TWIN TURBO Intercooler Piping
SKU:
Intercooler Piping Kit to suit Subaru Legacy TWIN TURBO
Intercooler piping kits are designed to majority of the time bolt straight in unless stated otherwise above. They will replace your factory turbo intercooler system with this front-mounted intercooler set up or they will add an intercooler setup to your vehicle if your vehicle didn't have one at all.
NOTE: With any kit, the bumper may need to be cut a little to fit the intercooler. Nothing major and also the overflow bottle will need to be moved. Other slight mods might be needed for the different versions and years of the Twin Turbo Vehicle.
'úÖ To Fit your Legacy, any model and B4 vehicle. Intercooler piping coming from turbos is 2" for better turbo flow and the other side is 2.5".
Vehicle applications:
Subaru GTB Legacy's
Subaru GT Twin Turbo Legacy
Subaru B4
Any Subaru Twin Turbo Vehicle
Includes:
'úÖ Mandrel bent polished aluminium pipes in 2" and 2.5"
'úÖ Set of 2.5inch and 2" Silicon hoses
'úÖ Set of Tbolt Hose clamps
'úÖ Intercooler NOT included
Scarles offers the GT2 600x280x76 intercooler to suit this piping kit, as well as blow-off valves to suit.
Customer Reviews
3
Pipes not cleaned at all completely filled with metal shavings just put it all together now have to take it all apart again