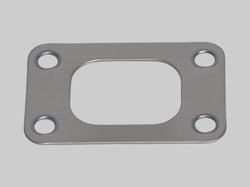 scarles
T2 Turbo Gasket Steel
SKU: SCR TUR00205
Turbo Gasket Multi layered Steel - T2 Flange

Turbo gaskets are used to go in between your turbo flange and the manifold turbo flange to stop any leaks. When it comes to this you want to ensure you get the best quality ones on the market not the cheap paper gaskets. This will ensure it protects the flange surfaces from any exhaust leaks which ultimately will affect your vehicles performance.

• Fitment for Nissan Silvia Sr20det type turbos that run the smaller 4 bolt T2 flange
• Multi layer steel pressed
• High quality steel

Included:
• x1 Gasket

Scarles'Ñ¢ offers a huge range of turbos to suit most vehicles on the market, just enquiry with us for more information.