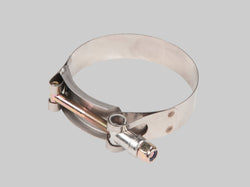 scarles
Heavy Duty T-bolt Hose Clamps All Sizes
SKU: SCR CLA0039
Heavy Duty Radiator Hose Clamp T-bolt Clamps 19mm width.
Instead of using those cheap skinny hose clamps that always break and never seem to tighten enough, try one of these superior stainless steel hose clamps. Used to clamp down on your silicon hose's in intercooler setups or turbo setups these will do any clamp job needed.
'úÖ We stock these in 1.5", 1.75", 2", 2.25", 2.5", 2.75", 3", 3.25", 3.5" and 4" T Bolt clamps
'úÖ Suited to fit based on silicon hose sizes these are clamping down to
'úÖ Inform us which clamp or clamps you require
'úÖ Made from Stainless Steel
'úÖ 10mm head on the bolt
'úÖ Width of band 19mm
'úÖ 12-Month Warranty
Included:
'úÖ x1 SS Tbolt Clamp
We have a range of high quality Flexi-Grip vacuum hose and silicone hose available to tidy up your engine bay and replace dried and old hoses. Sizes start from as little as 2mm inside diameter up to 20mm in vacuum hose and in silicone hose for intercooler piping it starts from 32mm / 34mm / 2" up to 4" inside diameter hoses.
Customer Reviews
03/07/2023
David M.

New Zealand
5 out of 5
These t-bolt clamps and very good quality and not to wide hold on like like the misses in the the front set