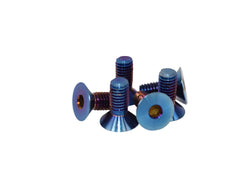 scarles
Titanium Steering Wheel Bolts Set - Burnt Blue
SKU: SCR STW013
Scarles Steering Wheel Bolts in Titanium - Burnt Blue Color

Our high quality titanium steering wheel hardware are perfect additions to your steering wheel. Most aftermarket steering wheels come with poor quality wheel bolts that easily round off if you take your wheel on and off. These titanium bolts won't round off and will stay in the correct shape and look great in this color

• Suited to fit into aftermarket steering wheels, replaces the 6 bolts holding your wheel onto the boss kit, used to bolt directly to the steering wheel without the surround. (COUNTERSUNK STYLE)
• Made from high quality cast titanium
• Measurements: M5 x 0.80 x 12
•

Included:
• x6 Scarles titanium bolt in Burnt Blue

Scarles'Ñ¢ has a complete range of Boss Kits / HKB kits & steering wheel hubs available. Airbag, hicas & cruise control kits are all covered. Also offering NRG Quick release kits for added security and seat access.