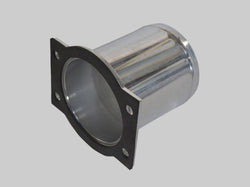 scarles
Toyota 1UZFE Pod Filter Adapter
SKU: SCR SIM0060
Genuine Simota Air Filter Adaptor to suit Toyota 1UZFE

Simota offers high quality harden plastic pod filter adapters with have a 3.5" neck to suit most pod filters on the market. This bolts onto your factory airflow meter in your vehicles engine bay and on the other end of this pod filter adaptor you put a pod filter on it. Easiest way and best way to install a aftermarket air filter.

NOTE: we have just come across a 1UZ in 1996 Celsior that differs, please double check your AFM is a 4 bolt type.

• High Quality Aluminium Adapter
• Suited to fit
- Any Toyota 1UZ-FE V8 Engine with air flow meter
- Toyota Hilux with the conversion motors
- Toyota Hiace with the conversion motors
- Lexus LS400
- Toyota Celsior
- Toyota Soarer
- Toyota Crown
• Requires a 3.5" inlet pod filter
• 12 Month Warranty

Includes:
• x1 Pod Filter Adapter
• x1 Rubber Gasket

Scarles'Ñ¢ has a massive range of air intake products ranging from pod filter adapters to pod filters to aluminium intake pipes. We have you covered when it comes to your engine.