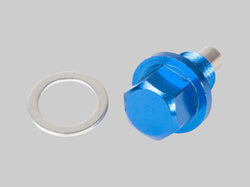 scarles
Nissan & Toyota Magnetic Sump Plug *SCARLES*
SKU:
Toyota Magnetic Sump Plug - anodised alloy

Used to catch all the unwanted metal particles from entering further into your motor, ultimately causing engine damage. Easy to fit on, just unscrew your current oil sump plug at the bottom of your engine and replace it with one of these.

• Extremely powerful magnetic sump plugs, these things are tough!
• High Quality aluminium
• 12 x 1.25 thread
• 12 Month warranty

Included:
• x1 Sump Plug
• x1 Washer

Scarles'Ñ¢ are the distributors of high performance Royal Purple oil's in New Zealand. Check our huge range today!