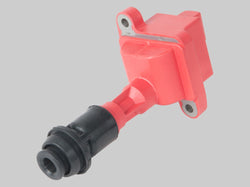 scarles
Toyota Soarer 2JZGE 2JZ-GTE Coilpack Set
SKU: SCR ELC0009K
Toyota Soarer 2JZGE 2JZ-GTE Coilpack's

When you are having issues with your factory coil packs in your vehicle it might tend to misfire and not run properly or run rough. Instead of buying 2nd hand and unknown condition coil packs these are your "upgraded" alternative. Not only providing a replacement coilpack they also will provide stability to the spark of your vehicle and also increased performance of reliability. Scarles'Ñ¢ coilpacks are quality and give you that performance edge.

• Suited for the Toyota 2JZGE and 2JZGTE vehicles both the turbo and non turbo vehicles
- Toyota Altezza AS300
- Lexus IS300
- Toyota Aristo
- Lexus GS300
- Toyota Crown
- Toyota Crown Majesta
- Toyota Mark II
- Toyota Chaser
- Toyota Cresta
- Toyota Progres
- Toyota Soarer
- Lexus SC 300
- Toyota Supra MK IV
• Perfect replacement coilpacks, tested with some of New Zealand's top Tuners.
• High quality coil packs made to give you that increased performance.
• 12 Month Warranty

Included:
• x6 Coilpacks

When you need to upgrade your turbo Scarles'Ñ¢ offers a perfect solution named the SCR320. Our most popular model turbo works perfectly on petrol vehicles 2L , 2.5L & 3L and also will work on Diesel vehicles like the 4.2L engines.