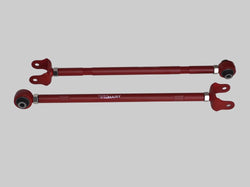 scarles
Truhart BMW E36 E46 Rear Camber Arms
SKU:
Truhart BMW E36 & E46 Camber Arms - New Zealand's only Road legal and certifiable arms.

Truhart is New Zealand's only certifiable and legal suspension arms as we can provide all the paperwork needed to get these legal on the road, but are also perfect for the track and racing use. These camber arms can adjust the camber angle of wheels , and is required when you lower the vehicle with aftermarket suspension. It can be adjusted from +2.5 degrees to -4 degrees. The angle of the camber will be different for difference of ride height that you set your vehicle at.

• Certifiable in New Zealand & Road Legal
• Fits: BMW E36 & E46, Series 3, M3 & Z3 models
• To adjust the rear camber of your vehicle
• +2.5 to -4 degrees camber adjustment
• Sold per pair


Included:
• x1 Pair of Rear Camber Arms

In addition to these Truhart adjustable suspension arms we have a huge range of aftermarket D2 Adjustable Coilovers for your vehicle starting from $1495.