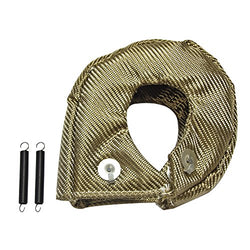 scarles
T4 Turbo Beanie & Blanket
SKU: SCR TUR0037
T4 Turbo beanie made from a titanium material.
Turbo covers fit onto the turbine housing to prevent heat damage to your vehicle.
When you have a turbo on your vehicle they produce a huge amount of heat. To avoid melting and damaging parts in your engine bay you need one of these, they wrap around the rear end of your turbo and keep the heat from damaging parts. Very easy to fit!
Compatible for any T4 sized turbo and will suit any vehicle.
Specifications:
* Titanium Turbo Beanie
* Rated to a max of 1100 Degree Celsius
* Measurements Approximately: 205mm height. Opened length at bottom 170mm and 115mm depth
Includes:
* x1 Turbo blanket
* x2 Fitment springs
* 6 Month Warranty