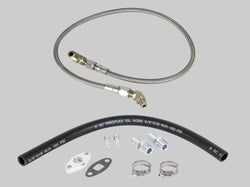 scarles
Turbo Oil Feed & Drain Fitting Kit
SKU:
Don't risk damaging your turbo with other cheap universal hose kits where the materials are inferior to this one and usually the oil drain pipes not even oil rated. We have provided you a perfect solution for your turbos needs. The feed pipe is made from high quality teflon hose, perfect for feeding your turbo the oil it thirsts for and for your drain we supply you with a high temperature oil rated drain pipe with extra fittings to get this kit setup for your turbo.

* High Quality Feed Pipe
* 1/8npt on the 45 degree part and 1/4npt on the other end
* Teflon Hose
* 700mm long feed pipe.
* 45 degree one end to go into your block or into an adapter
* 90 degree to go on top of your turbo, suited to fit into our 2 bolt oil feed flanges.
* High Quality Drain Pipe
* Comes with gasket
* x2 M8 Bolts
* Comes with oil drain hose to suit, around 400mm
* Measurements of bolt holes M8.
* Measurements of Centre drain hole 16.5mm
* Measurements of bolt holes centre to centre 51mm
* Suited for SCR320, T3, T4, TB03, TD04B, T04E Turbos & Will fit most other types of turbos.
* Will fit other similar sized feed pipes on turbos.