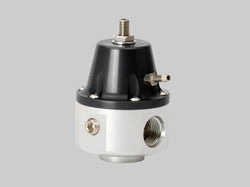 scarles
Turbosmart Fuel Pressure Regulator FPR2000 -8AN - Black
SKU: SCR TST0954
Turbosmart'Ñ¢ Fuel Pressure Regulator 2000hp - FPR2000
Scarles'Ñ¢ is the official dealer of Turbosmart'Ñ¢, Turbosmart's High-performance EFI fuel pressure regulator is smaller, lighter and better! Featuring two -8AN inlet ports, one -8AN return port, and one 1/8 NPT gauge port, 30-90 PSI base pressure adjustment, 1:1 ratio, premium diaphragm and stainless steel valve + seat allow for ANY fuel type including E85 and is suitable for engines with up to 2000hp fuel systems. FPR's feature a non-directional bias to regulation, so no matter where the fuel comes in they will regulate the same. Factory tested.
* EFI fuel regulator
* 3 x -8AN ports
* 1/8" NPT gauge port
* Capable of regulating up to 2000hp of fuel flow
* 1:1 manifold pressure ratio with no load losses
* 30-90psi base pressure range
* Stainless steel internals providing maximum integrity and reliability
* Suitable for all fuel types
* Operational between -35ºC to +200ºC
* MILSPEC diaphragm
* 12 Month Warranty
Included:
* Mounting bracket and retaining clip
* Vacuum fitting and gauge port blank.
* Pressure port 1/16 NPT with nipple supplied
Scarles'Ñ¢ offers the entire range of Turbosmart'Ñ¢ products and can provide any of the accessories, blow off valve springs and wastegate springs.