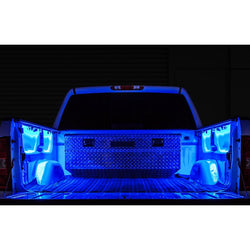 Scarles
TYPE S 120IN SMART EXTERIOR TRUCK BED LED
SKU: SCR TS63 LM56245M
TYPE S 120IN SMART EXTERIOR TRUCK BED LED
Scarles are now stocking the Type S LED kits used in Formula Drift Series
With added lighting, you can turn your truck bed from typical to stylish. More practically, truck bed lighting can be very useful when loading or unloading. You won't have to worry about leaving something important behind or forgetting that last little item in the back. Most truck owners prefer LED lights for exteriors, thanks to their clear, bright light and long battery life. Changing the batteries on exterior truck bed lights can be a pain. To make things easier, look for long-lasting batteries and durable bulbs when you're considering your options. You may also want to think about smart lights. With these products, you can change the colour, brightness and other controls. You can even switch on some nifty blinking patterns to add flair to the back of your truck.
Features
Smart Hub Controller for a custom lighting experience using the TYPE S LED app.
49 unique colours, 8 light modes, and multi-zone presets for the ultimate exterior look.
Set the mood outside your vehicle with 4 different light modes: Spot Light, Color Light, Spot & Color Light, and Strobe Light.
Weatherproof design to keep your vehicle safely glowing down the road.