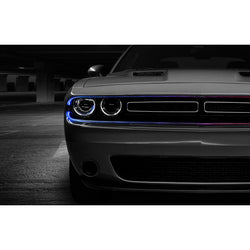 Scarles
TYPE S 120IN SMART LED EXTERIOR TRIM LIGHTING KIT
SKU: SCR TS63 LM57485
TYPE S 120IN SMART LED EXTERIOR TRIM LIGHTING KIT
Scarles are now stocking the Type S LED kits used in Formula Drift Series
The TYPE S App-Controlled 120in Smart Exterior Trim Lighting Kit comes with color-changing LED lights and an easy-to-use app. You can install it along with your grill, bumper, lift, gate, or panel gaps. When you're looking for the best exterior trim light kit, you'll want one that is controlled by an app so you only have to perform the installation once. This app is intuitively designed so that it's easy to make color and brightness changes. The best part of using the app is that there are countless options to choose from across the full-color spectrum. Another important feature of the TYPE S Exterior Trim Lighting Kit is that the light strip itself is quite slim. This ensures that it will fit in tight locations like along your grill, bumper, lift gate, or panel gaps. You can even install multiple light kits to highlight unique features around your vehicle.
Features
Personalize your lighting experience with the TYPE S LED App.
Select from 49 colors and 6 effect modes.
Weatherproof design.
Flexible material mounts with 3M tape.
The possibilities are endless, and smart with app-controlled LED lighting for your ride's exterior.