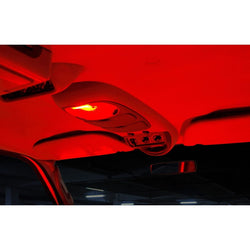 Scarles
TYPE S MULTICOLOUR SMART LED INTERIOR DOME LIGHT KIT
SKU:
TYPE S MULTICOLOUR SMART LED INTERIOR DOME LIGHT KIT
Scarles are now stocking the Type S LED kits used in Formula Drift Series
Most of us know the importance of good interior lighting for our cars. If your dome light has been starting to flicker or fade, it may be time for a replacement. Fortunately, finding that replacement is easier than ever today, with lots of great options available. It is always a good idea to have enough light to let you read inside your car. Good interior lighting can also be a smart safety measure. If you go off the road or find yourself stranded, you want as much light as possible to let helpers know where to find you. A good dome light is a good look for your car. It brightens the interior, provides a sense of cohesion, and lets you feel more confident in the overall image that you and your car present to the world.
Features
Smart Multi-Colour Dome Light.
Personalize your lighting experience with the TYPE S LED App.
Select from 49 unique colours,8 light modes and multi-zone presets.
Universal dome light adaptor.