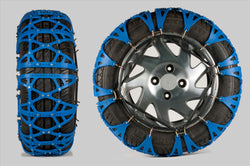 scarles
Urethane Snow And Mud Chains - ONLINE ONLY PRODUCT
SKU:
Our Snow and Mud Chains are made in Thermoplastic Urethane (TPU) to suit a range of wheel and tyre sizes.
This product is an ONLINE-ONLY product.

Unlike the conventional steel snow chains which can rattle, be extremely noisy and uncomfortable to drive these are for comfort and to use with ease when travelling up and down the mountains or in any snowy terrain on our roads. These hold grip better than metal snow chains, are easier to put on and are more comfortable to drive on.

* Quick mounting design and easy to install (approx 2-3 minutes per tyre max)
* Suitable for use on snow-covered, icy, and mud roads.
* Suggested not to exceed 50 km/h on snow & mud, less on icy roads
* Main body is made of high-tech mixed material (TPU)
* On muddy roads, these offer an "anti-skid function"
* Bears low temperature and endures abrasion
* No shaking when the vehicle is running

Included:
* x2 TPU Snow chains for your tyre size
* x2 Rubber eye fitment bands
* x2 Rubber finishing bands
* Pair of gloves
* Fitment tool

See our tire size table here - https://www.scarles.co.nz/pages/chains-size-guide.
Choose the right size for your wheels and tyre combination and let us know in your confirmation.

See Mudstuck for a full range of 4x4 products.