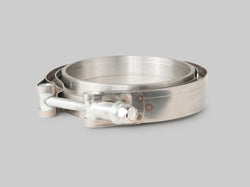 scarles
VBAND Clamp Set 4" Set
SKU: SCR CLA0030
Stainless Steel Vband Clamp set - 4" or 102mm.

On the back of your turbo sometimes they just have a circle pipe coming of it. And to connect your exhaust up to the turbo you will need this v band clamp. How it works is that x1 flange goes onto the back of the turbo and the other flange is welded onto your exhaust, then to connect the to together you use the provided clamp.

• Suited to fit 4" (102mm) outside diameter pipe
• Used to fit onto turbos or exhaust systems.
• Universal fitment to any vehicle, weldable.
• High quality stainless steel

Included:
• x1 Clamp
• x2 Flanges

Scarles'Ñ¢ offers a huge range of intercooler piping, vacuum hose and silicon hose to meet all your modification needs.