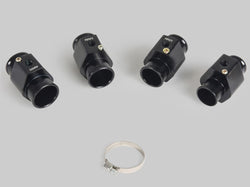 scarles
Water Temp Sensor Adapter 40mm
SKU: SCR RAD0064
Water Temperature Sender Adapter

These are great, you just cut your top or bottom radiator hose in half and place this between it and then you can connect your gauge up to this unit by using a water temp sensor unit.

• Quality anodised aluminium black finishing
• 1/8th NPT thread for sensor.
• Outside diameter is 40mm
• 12 Month Warranty

Includes:
• x1 Water temp sender
• x2 Hose clamps

We offer a range of different sizes 28, 30, 32, 34, 36, 38, 40mm all in black as well as the water temp sensors and water temp gauges to suit.