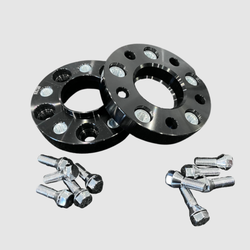 Scarles
Wheel Spacers 5x120 12X1.5 BMW BOLT 25mm Pair
SKU:
25mm Wheel Spacer Hubs Pair 5x120 12x1.5 - Aluminium 6061-T6
Scarles'Ñ¢ wheel spacers offer you the solution you need when your shocks or wheels are rubbing or touching the inside of your wheel hubs, you will need to space your wheels. This occurs when you put bigger wheels on your vehicle or aftermarket suspension. Often needing spacers with merely a brake upgrade. These wheel spacers will bolt straight onto your hub and space your wheels out 25mm. Then you place your mag wheel onto this wheel spacer. When used with the correct hub centric rings these spacers are totally secure and legal. Suitable for track use.
* Premium Aluminum 6061-T6
(legal aluminium for wheel spacers)
*BMW Spacer - We have Holden available
* Extensively tested & proven to work
* CNC machined from a single block
* Suits stud patterns 5x120, 73.1mm Centre bore
* Thread pitch 12x1.5
* 25mm thick spacers
* Sold as pair

Included:
* x10 machined wheel nuts to sit flush in the spacer
* x1 Pair of Wheel Spacers
In addition to these spacers Scarles'Ñ¢ has a huge range of hub centric rings that will located this wheel spacer onto your hub or your mag wheel onto this spacer.