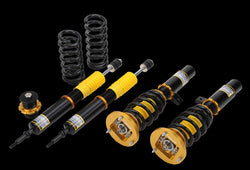 scarles
YellowSpeed Coilovers MERCEDES-BENZ S-class W220 99-05
SKU: SCR YSR0432
NOTE: Due to the many variations of coilovers we do not keep this model in stock. Once purchased the order would take about 3-4 weeks to arrive.

Yellow Speed Dynamic Pro Sport 36 Way Street Adjustable Coilovers MERCEDES-BENZ S-class W220 99-05

Part Number: YS01-MB-DPS022
Spring Rates: Front: 20kg and Rear: 14kg
Top Mount Type: Front: Aluminum Upper Mount w/out pillow ball & Rear: Aluminum Upper Mount w/out pillow ball
Additional Vehicle Fitment Information (if any): 2wd; 6cyl model; except pneumatic suspension; front upper mount is slanted

When you are looking to lower your vehicle, set it up for racing, have a firming ride, better handling, more stability while driving why settle for regular lowering springs when you can easily get these YSR coilovers which do a whole heap more than just make YOUR vehicle look good! Replaces your factory shocks and springs with this complete set of 4 Yellowspeed Coilovers

Features:

- Comes as a full set front and rear
- Full height adjustable
- 36 Way Dampening adjustable
- Full-length adjustability with separate ride height and spring preload
- 60mm-100mm drop from stock
- Teflon coated threads and anodized finish to prevent corrosion
- 6061 Aluminum upper camber plates and pillowball mounts (depending on application)
- Fully rebuildable

Kit Includes:
- Front pair and Rear pair of coilovers (1 set)
- Adjustment Tool
- 1-Year Warranty

NOTE: Picture's used of coilovers are universal picture's so actual product may vary, ask us for more details if required, some kits use your factory top hats, are separate shock and spring set up and some come with camber adjustable top hats.