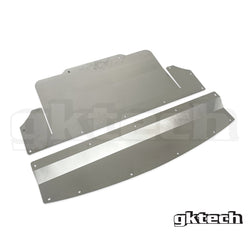 Scarles
Z34 370Z UNDER ENGINE BASH PLATE/ OEM BUMPER RETAINER
SKU: SCR GKT Z34BASH
Save your sump with this under engine bash plate. This is designed with low cars in mind and will reduce the risk of damage. It will also help reduce turbulence and improve airflow.
- 3.0mm thick aluminium for the bash plate. 1.5mm for front bumper retainer.
- 100% bolt on to factory mounting points
NOTE: The front bumper retainer is designed specifically for the OEM bumper. It may not fit with other bumpers.
NOTE #2: Installation of either the bash plate or front bumper retainer requires an M6x1.0 rivnut to be installed
Suits:
Z34 370Z