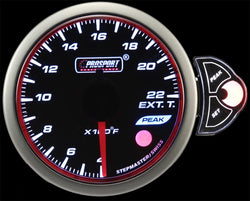 Scarles
Prosport Exhaust Gas Temperature Gauge 52mm Halo Series
SKU:
Prosport Exhaust Gas Temperature Gauge 52mm Halo Series
Using a 270degree sweep Stepper movement for accuracy, now you can easily learn the Exhaust temperature and how your modifications will affect the engine performance. With this gauge you can now tune your vehicle for peak performance.
With one touch check your peak EGT Temperature!
Now you can concentrate on driving instead of watching your gauges. Set the warning feature to go off at any temperature you want to warn you when you exceed your pre-set level.
Enjoy 6 stages of dimming for both day and night operation modes.
(0-2200degree F includes K-type Sender, Visor, quick connect pigtail wiring, Decal and Instructions