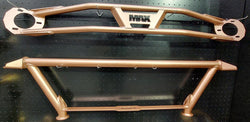 Scarles
PSM E36 Chassis Brace Combo
SKU:
PSM E36 Chassis Brace Combo includes:
E36 Front Strut Tower Bar and reinforcement plate set
We 3D laser scanned several cars and 6 cylinder motors (not for use with 318 with 4 cyl.) and then CAD designed this strut tower bar for maximum clearance and strength to cure classic issues with BMW's destroying themselves after coilovers are installed. Laser cut plates and laser notched tubes are both CNC bent for accuracy before going into our automated robot welding for the stitch pulse MIG process which has very consistent heat penetration and low spatter. Finally we powdercoat the bar with the signature copper metallic while the round weld on plate, (required for spacing the bar base plates off the humps on top of the strut towers), is coated in steel-it (a weldable coating) so that it wont rust if you temporarily bolt it right on with the strut tower bar, and its ready to weld along with the strut tower to apron/fender plate when you are.
E36 Rear Strut Tower to Subframe Brace Bar
~Tie in your rear strut towers and subframe mounts for increased chassis rigidity ~Help prevent damage to the strut towers and subframe mounts ~ In preparation for the debut of our true coilovers, we've made the ultimate rear brace bar that was developed using a great deal of technology by first 3D scanning the E36 Chassis, then laser cutting plates and notching tubes, and finally we test fit our tig welded non-adjustable structure on several cars to get slotted holes that would accomodate the observed variations for the ultimate rigidity and reliability. After drilling the floor panel as shown in the gallery, and bolting the feet down with included m12p1.5 30L bolts & m12/m14 flatwashers, the bar clamps the floor panel agaist the same structure inside the chassis that the rear subframe mounts are attached to. Entire installation can be done from the top without subframe removal. Our solid subframe bushings have long hardware included that allows the brace and the solid bushing to be optionally mounted on the same long fastener.
E36 Sub Frame Chassis Reinforcement Plates
Weld-in .125" laser cut steel plates with 3D scanned OEM spot weld connections cover both horizontal and vertical surfaces which allows professional protection or repairability on the subframe mounting area where cracking and ripping of the unibody occur due to prolonged abuse in competitive driving or in neglected cars where they failed to replace the subframe bushings. Plates for the four mountig surfaces are included. We recommend installing the Trailing Arm Chassis Reinforcements at the same time, sold separately. Check the gallery for install photos!