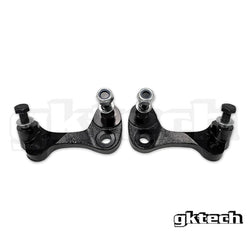 scarles
GKTECH V2 S14/S15 BOLT ON ANGLE KIT (RCC KIT) (Order in)
SKU: SCR GKT0127
*NOTE* Currently is an order in product from GKTECH In Australia. Takes roughly 3-4 weeks
The V2 GKTECH roll center correction kit is now made from 1030 forged steel and provides 1.57'' (40mm) of roll center correction,1.57'' (40mm) of bump steer correction and also re-positions the steering arm to increase the steering lock. With two different pickup points for the tie rod, this now offers two settings, allowing for more aggressive steering response and less Ackerman which will provide faster steering!
The roll centre correction kit bolts up to the bottom of your standard knuckle and can be removed with no ramifications at all. Circa 60+ degrees of lock is achievable without offset rack spacers once the factory LCA lock stop is removed but if you're running lots of camber or caster using our offset rack spacers is a good idea to avoid steering bind. With supporting modifications, these can see a similar lock to V4 drop knuckles!
With the introduction of our NEW price, they are by far the cheapest way of getting both roll centre correction and lock!
NOTE: Nissan S15 Silvia - these will increase camber as it pushes the bottom of the wheel out 0.98'' (25mm) so best to only use with adjustable camber tops.
Suits:
S14 200SX/SILVIA
S15 200SX/SILVIA